You are here
ECDC July 30/31 at Summit Point - $5,000 purse!
Submitted by
protomor
on Wed, 07/13/2011 - 15:57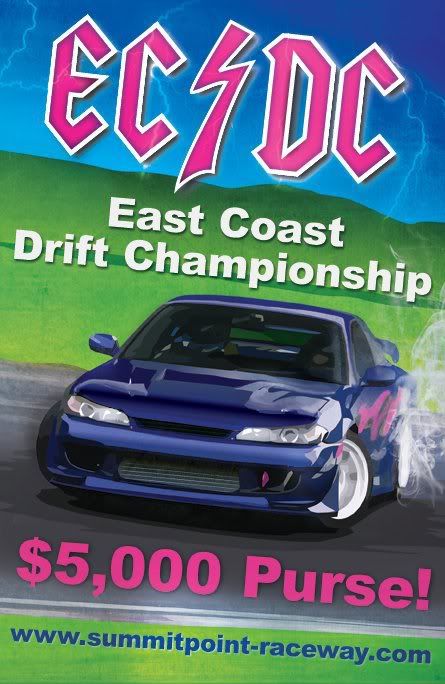 Summit point is doing another HUGE drift day on Shennandoah circuit.. The tandem competition will be blue course run in reverse. Fear not! Saturday has designated time for competitors to learn how to do this difficult course. Intermittently, blue course (bridge course) and green loop (closed for reverse blue course) will be opened for at least 5 hours saturday. On sunday, prior to the competition, non competitors will have a chance to try the reverse blue course.
Of course, as with any 2 day Drift Nirvana event, camping is encouraged. Final gate entry for saturday night is 9-10pm range. Come early, find a camping spot and have fun!
Schedule:
Saturday
8am Gates Open
8a-11am Driver roll in/Reg
9:00 Drivers Meeting
9:30 Loops open
10:00am ECDC Drivers meeting
10:45 Bridge course backwards closes for Main Comp practice.
11:00am ECDC Main Comp practice on Bridge backwards
1pm ECDC Break time
1:15 All loops open
3:15 ECDC Loop open to practice
5:00 ECDC loop Practice over
5:15 all loops open to practice
7:30 Course Closed.
Sunday
8am Gates Open
9-11 ECDC practice loop open/course open for DN Loops
11 Lunch- quiet hour Mandatory***
12-2 Qualifying ECDC course/ Loops open For DN
2:15 ECDC qualifying results
3:00 ECDC Top 16 Tandem Practice
3:30 End practice
4-5pm Tandem Eliminations
5:15 All loops Closed.
5:30pm Award Ceremonies
7pm gates close